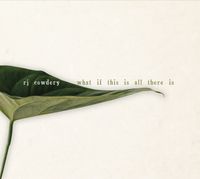 WHAT IF THIS IS ALL THERE IS - PRESS
No Depression



Amos Perrine
Cowdery proves the you do not need to live in a hotbed of musical creativity, or a trendy locale, in order to make outstanding music. On this, her fourth album, she continues to be the consummate "folksinger," without the chains of irony or the desperate pleas of the young thinking they are the first to climb that mountain and see the river below. Instead, Cowdery contemplates life in the middle — the middle of the country, nearing the middle of life.
Nowhere is this more apparent than the title track, where she asks what if where she is now, with its losses, triumphs, and the everyday-ness, is the best it's ever going to get? Not a Peggy Lee-like sense of futility, but rather an illusionless look at the place where we all have found ourselves. The track that follows, "Secrets of My Dreams," continues the story, with ruefulness and a touch of sentimentality. Just like any folksinger worth her salt.
MAKING A SCENE
Viola Krouse
When you listen to an album that evokes Patty Griffin, Gretchen Peters, Kim Richey all rolled into one, you know you've picked high-cotton. What If This Is All There Is, is one of life's grandest questions. It's reflective and forward focused and allows for personal growth. If this is all there is for RJ Cowdery, she's in a good place. I'm glad she made it, but I know this is only the beginning.
RJ Cowdery writes from a place of having lived. Her songs are straight and to the point in a kind and knowing way. With the passing of time the world gets smaller and the big things fade out of focus. It's easier to see the little things. Things that matter most. It's from this place that these songs come. With a bullshit radar finely focused, these are the story of RJ Cowdery. They are your story too. Lean in hard. It's okay, RJ's been there and she knows the way out.
From the first few notes you know this is a special album, but it's RJ's voice that seals it. The opening song, "Somewhere A Place", hits you immediately. A reflective song about love denied wrapped in velvet vocals. It's a love song, a what if song with a tom-tom pater, simple key strokes, and gentle guitar. The title song leaves no doubt about what RJ Cowdery is pondering. "What If This Is All There Is"
"I know this might sound crazy
But for me it rings so true
One song at a time is doing me just fine
And who knows I might just pull through"
RJ only recently decided to focus on her music full-time, but she has made short order of it. She has been winning songwriter awards at several prestigious contests such as Mountain Stage and Kerrville. This album has its debut at #49 on Roots Music Report, and is ranking in DJ playlists, (The complete list of accolades, as well as lyrics, can be found at rjCowdery.com). These are beautiful folk songs, that sometimes rock out as it does with "Broken Wheel". These are country songs with lyrics that spin a beautiful story as they do in "Secrets Of My Dreams", "Don't Give Up", or "Is There Time". "Shotgun Rider" is the most instrumentally interesting song with banjo, dobro, flat-picking guitar, and mandolin. "Girl In The War" is simply stunning with its harmony vocals, mandolin, and upright-bass. "Get Out Of Here" is going to be every-woman's theme-song.
"I'm a little bit firecracker, little Pillsbury Dough
I find comfort in the silence that often leaves me sad and alone
I am wiser cuz' I'm older and I've got the scars to prove it
If you look beyond the surface you just might find I'm worth it"
"Lost and Found" evokes Rodney Crowell. The fiddle plays prominently as the journey of the album is complete. Like two old birds, the album has minced words scratched around and has found what was there all along.
All the songs on What If This Is All There Is are written by RJ Cowdery with the exception of "Girl in the War" by Josh Ritter. Produced by Amy Speace, RJ provides vocals and acoustic guitar. Thomm Jutz recorded, engineered, and mixed the album and provided acoustic and electric guitars. Mark Fain plays upright bass, Lynn Williams provides drums and percussion, Jen Gunderman plays keys, and Justin Moses plays banjo, fiddle, and mandolin. Harmony vocals are provided by Ingrid Graudins, Melissa Greener, and Amy Speace.
Taking stock and finding yourself in the middle of life you do ask "What If This Is All There is"? You figure out what works and what doesn't. You focus on the joy and on the real. For the album, as in life, everything here belongs.
Take Effect Reviews
Tom Haugen
"A highly reflective album that tip toes around country, Americana and folk sounds, Cowdery's got a knack for delicate song craft and delivers with gorgeous intimacy that warrants repeated listens."
COUNTRY STANDARD TIME
Jim Hynes
In the vein of "it's never too late," RJ Cowdery is a Columbus, Ohio-based three decades plus songwriter who only decided to record and perform a few years ago. She has plenty of hard-earned wisdom to impart. Already she's garnered songwriting awards at several prestigious festivals like Kerrville and Falcon Ridge. Her nine songs and one Josh Ritter cover on "What If This Is All There Is" speak to change and loss in an autobiographical way that becomes rather universal. Many of us deal with aging, losing loved ones and contemplating what's left.
Cowdery enlists fellow songsmith Amy Speace as producer while gifted guitarist Thomm Jutz not only plays brilliantly as usual, but handles the recording, engineering and mixing. One of Nashville's in-demand keyboardists, Jen Gunderman, and versatile string man Justin Moses also frame Cowdery's songs with support from three female harmonizers.
"Somewhere A Place" is a mixed remembrance of a past husband that she sees reflected in their son's features and actions. The title track is one that retirees, or those who have recently left the proverbial rat race, can relate to. Rather than worry about tomorrow, take the present as she does - "One song at a time is doing me just fine/And who knows I might just pull through." "Broken Wheel" urges one to cling to hope even when feeling on the brink while "Don't Give Up" is a plaintive plea to restore a relationship gone bad.
That last glimmer of hope in a relationship turns to revengeful anger in "Shotgun Rider." "Get Out of Here" contemplates mortality with lonely emotions that recall more innocent times using lines like - "Now my shiny belly Buddha on the dashboard's got a frown." She reprises the theme of the title track in the sweet closer, "Lost and Found" with these being the last lines on the recording - "Here we are in a circle chasing our tails/I think we've finally earned some time to sit back and exhale."
Yes, most of us can relate well to Cowdery's songs. She expresses common thoughts better than most of us can and therein, even amidst the sadness in some of the lyrics, we find comfort.
MIDWEST RECORD 
Chris Spector

Crowd funding really came through this time. Like a novelist blossoming in obscurity for years, Cowdery stewed in her own juices for decades before making the decision to go for it, emerging fully formed in voice and pen with the force of a runaway train. A totally stellar singer/songwriter set that never fails to hit all the right notes, she's unique enough that while apt comparisons might be apt, they don't do her justice. Just don't miss it.
THE ROCKING MAGPIE
Robustly Delicate Songs From the Country/Folk Axis.
It appears RJ Cowdery from Columbia, Iowa is one of those 'wandering troubadour' musicians who has a list of Festival Appearances, Songwriting Competitions, support slots and house concerts as long as your arm; and then some; yet is still flying under the musical radar; which greatly saddens me.
She is far from alone in that regard; but when I see and hear some of the 'over night' wonders in our little world, I truly despair at the state of the music industry.
But; and this may be naive on my behalf; but I firmly believe talent will always win through …… just sometimes you have to wait a bit longer than you deserve.
Why do I feel this way? Listen to the first song here; Somewhere A Place and you will hear a woman who can weave golden textures through a sad old love song; and sing it with a voice that is both 'world weary' and hopeful at the same time. 
RJ treads the path that is part Americana, part Roots, Part Folk and a whole lotta Country with ease on her insightful and perceptive songs, taking us on some kind of personal journey that will capture both your heart and imagination when she powers through Broken Wheel then drags things down to raw basics with Is There Time and Secrets of My Dreams.
We've all seen a lot of singer-songwriters like RJ Cowdrey in our time; but very few have a canon of songs this sharply observed and coupled to imaginative melodies that will make you feel like you've known them all of your life. RJ Cowdrey has this quality in Shotgun Rider and the heartfelt title track What If This Is All There Is? I've racked my brains, as I was sure I'd heard both songs before ….. but no sirree, these and everything else here are brand new and shiny just for this album.
Then, there are two very, very special songs here that definitely deserve a worldwide audience; her interpretation of Josh Ritter's Girl in the War is absolutely heartbreaking, and I hope Josh finds it half as beautiful as I have done.
The other is Lost & Found, and finds itself the RMHQ Favourite Song here, with the opening verse sending a shiver down my spine;
"Here we are, falling stars looking for a place to land
Not really knowing where we're going holding on best that we can
Like two old birds, mincing words scratching round' the back yard
Talking life and sacrifice we're only as strong as our parts
Oh what a journey such a hurry
Let's slow this whole thing down
Take a back road you and me we're on our own."
It's been difficult to try and pin down where RJ Cowdrey fits in; as she writes a song that could easily be found on a Joan Baez or even Emmylou Harris album; as she can conjure up images in the mould of Lucinda or perhaps even Ashley McBryde but also Amy Space too, who coincidentally (?) produced the record ; but I also imagine she has spent a lot of time listening to Bob Dylan, Paul Simon and Willie Nelson too…… ultimately dissecting each until she has found her very own style; and one she should be rightly proud of.
HVY
Will Phoenix    
Cowdery confirms her new CD is "a conversation of change and loss and, ultimately, how I am dealing with life here in the middle."  She notes that her goal was to make a record that was "simple and real."  It appears she has succeeded. Overall, this album is an audio offering of honest, simple yet sometimes stunning songs.  Her playing is sharply effective and her vocals are soft and a pleasure to listen to as well.  So be sure to check out RJ Cowdery's What If This Is All There Is before you "Get Out Of Here.